Exploring Rich Betawi Culinary Treasures
Discover the immense richness of Betawi culinary through mouth-watering delicacies like Cork Pucung, Nasi Ulam, Putu Mayang, Soto Tangkar, Egg Crust, and the famed Soto Betawi. Experience hundreds of years of cultural fusion in every sumptuous bite.
From the criss-crossing cultural influences of Arabic, Chinese, Dutch, and Portuguese, the Betawi culinary scene has birthed a beaming potpourri of food variety. Famous for dishes such as Kerak Telor, Kue Pancong, and Soto Betawi, the Betawi food culture offers a taste from centuries of cultural blendings. So, what is the heart of Betawi culinary?

Cork Pucung
Firstly, a well-known Betawi dish is Cork Pucung which resembles Javanese rawon, but presents a distinct taste with its thick texture and rich spices. Where rawon features beef, Cork Pucung selects snakehead fish as its protein star. Unique, isn't it?

Nasi Ulam
Yet another gem of Betawi is Nasi Ulam, a traditional food slowly disappearing from Jakarta's streets. A combination of white rice, various side dishes, and spices, topped with Centella asiatica leaves or basil, it offers an explosion of flavors in one bite. Ever tried it?

Putu Mayang
Have a sweet tooth? Betawi's dessert collection features the delightful Putu Mayang cake. Originating from South India yet a favorite in Southeast Asia, its mix of readily available ingredients - rice flour, coconut milk, and brown sugar - makes it a popular market snack.

Soto Tangkar
Soto Tangkar, essentially a soup featuring beef ribs (referred to as Tangkar in the Betawi language), is a remnant from colonial times when the Betawi people could only afford little meat. This historical dish is both nutritious and deeply flavorful.

Egg Crust
Egg Crust or "Kerak Telor" is a Jakarta native food comprising white glutinous rice, chicken or duck eggs, and dry roasted dried shrimp topped with a blend of spices. Are you ready to try it?

Soto Betawi
Last but not least is the infamous Soto Betawi - a signature soup from DKI Jakarta. Just like Soto Madura and Soto Sulung, this soup also features innards and often includes other organs, such as the eyes, terpedo (bullet-like organ), and liver. With beef also added, this heart-warming soup would surely leave an impression.
With the array of tastes and flavors that Betawi culinary showcases, it is clear that the cultural blend is more than just a term. It is an experience; a savory adventure that tells hundreds of years' worth of tales. Ready to join the ride? Betawi's culinary prowess awaits!

Le Meridien hotel La Brasserie Restaurant
Jl. Jendral Sudirman Kav. 18-20 Le Méridien, Jakarta 10220 Indonesia
Satisfy your cravings with a lavish buffet of delicious international cuisine and Asian selections at La Brasserie, our central Jakarta hotel's popular restaurant featuring à la carte specialties throughout the day.
Vegetarian Friendly, Vegan Options, Halal, Gluten Free Options
Breakfast, Lunch, Dinner, Brunch
Reservations, Outdoor Seating, Seating, Parking Available, Validated Parking, Valet Parking, Highchairs Available, Wheelchair Accessible, Serves Alcohol, Free Wifi, Accepts Credit Cards, Table Service, Buffet, Live Music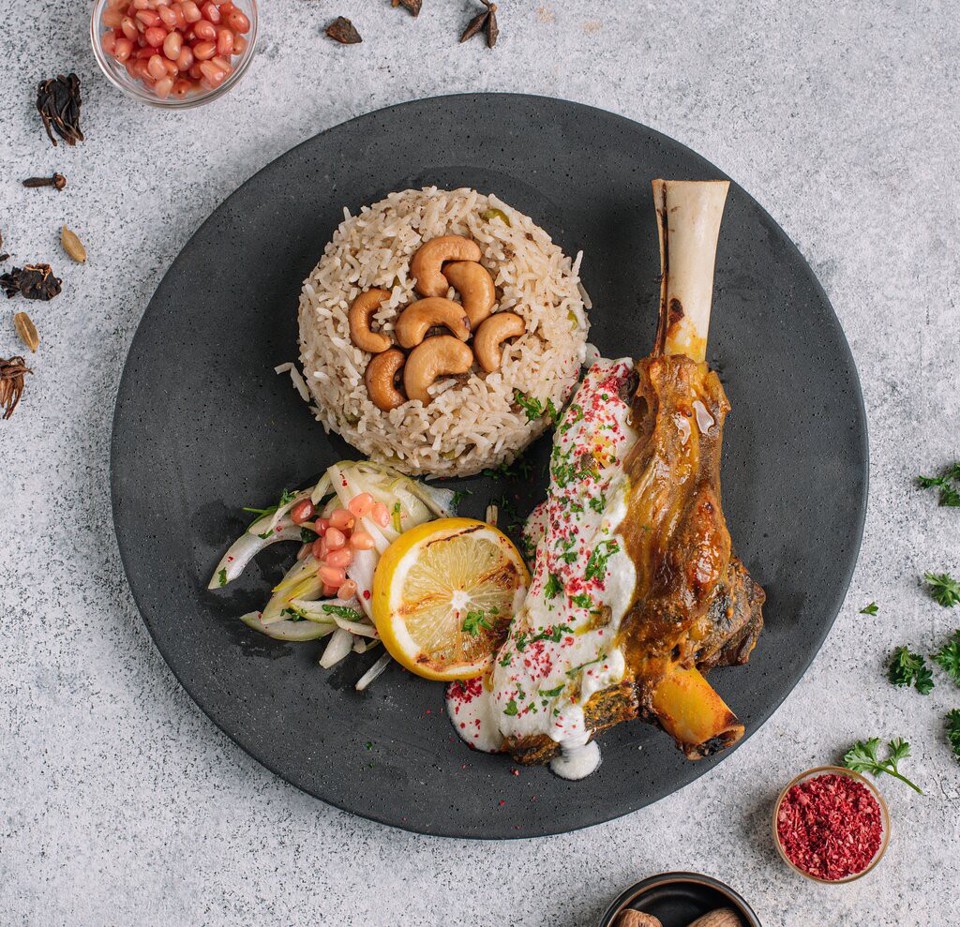 Le Meridien hotel Al Nafoura Lebanese Restaurant
Savor a melting pot of Middle Eastern cuisine prepared with rich, Lebanese flavors followed by a relaxing sisha at Al Nafoura Lebanese Restaurant. Enjoy dining in the warm, colorful ambiance with authentic music for a truly magical experience in Jakarta.
Vegetarian Friendly, Vegan Options, Halal, Gluten Free Options
Lebanese, Mediterranean, Middle Eastern
Takeout, Reservations, Outdoor Seating, Buffet, Private Dining, Seating, Parking Available, Validated Parking, Valet Parking, Highchairs Available, Wheelchair Accessible, Serves Alcohol, Full Bar, Accepts American Express, Accepts Mastercard, Accepts Visa, Free Wifi, Accepts Credit Cards, Table Service
JimBARan Lounge
Jl. Jend. Sudirman Kav. 10-11 AYANA Midplaza JAKARTA Lobby Level, Jakarta 10220 Indonesia
Avoid after-work traffic and head straight to JimBARan Lounge instead, where our lovely open-air terrace and stunning indoor bar promise hours of relaxed dining. The chic ambiance is enhanced with soothing waterways and contemporary seating pods, surrounded by manicured gardens and fairy-tale lighting. It is the perfect space to have spontaneous meet-ups with friends and associates after work and on weekends. Enjoy the freshest seasonal ingredients and creative cocktail pairings accompanied by tastefully composed lounge music to set the mood.
Reservations, Outdoor Seating, Parking Available, Validated Parking, Serves Alcohol, Free Wifi, Seating, Full Bar, Table Service
Legendary Sabang Food
Overview
Eat your way through Jakarta with this culinary tour of Jalan Sabang, celebrated for street food. As you explore the area with your fellow tour mates and English-speaking guide, you'll fill up on all sorts of specialties from across Indonesia, from Javanese chicken satay to Sumatran fish cake, not to mention Indonesian coffee. Try food from across Indonesia at up to five different dining spots Food is included in the price of the tour Small group tour ensures individual attention An English-speaking guide will lead the way. 2 hours Package (Approx.). Mobile ticket. Offered in: English. Good for avoiding crowds
Cikini Heritage Food
Overview
3 hours (Approx), Mobile ticket, Offered in: English, Good for avoiding crowds Stop At: Pegangsaan, Food tasting at 4-5 places, Duration: 3 hours, Admission Ticket Free" Understand the city's history further through tasting wide array of food from various region in Indonesia that have been established for several generations with Good Indonesian Food. These eateries have too been deemed as local favorites at restaurants that has been unchanged for ages. Spend your day with Good Indonesian Food tour and witness the history and the development of Cikini from the past until today!